designed to help you keep hearing

Soundbites is a breakthrough antioxidant dietary supplement that helps keep hearing cells happy and healthy so you can keep hearing.

"This product is great, it works, it's made a difference in my ability to hear and I never thought I would find anything that would!
Thank you!"
— Daniel Kaea

"No doubt, this actually does work. It has improved my ability to hear high tones. I didn't realize how much I had lost until I got it back!"
— Louise, PhD MD

"I find Soundbites really helps — the ringing is softer and easier to ignore."
— Susy Mansfield
flexible purchase options to meet your need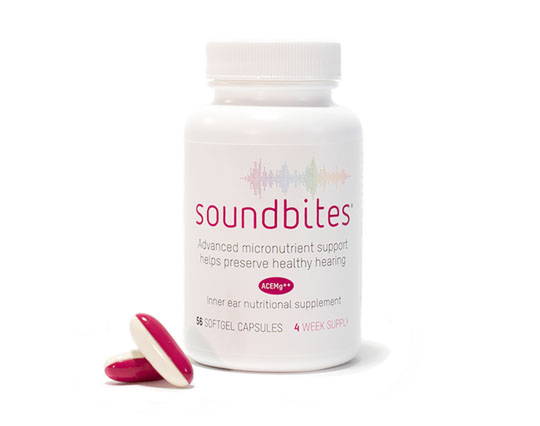 we are on a mission to help global hearing health 
Soundbites PBC is on a mission to keep hearing. Our goal is to measurably reduce the worldwide social and economic burdens of hearing loss and its consequences. We use a portion of our resources to support education, research, and an equal access initiative.
Today, the W.H.O. says 1.1 billion young adults are at risk of hearing loss early in life, mainly from loud music, and predicts that 10% of the world's population will be deaf by 2050. Soundbites is changing that, and more.