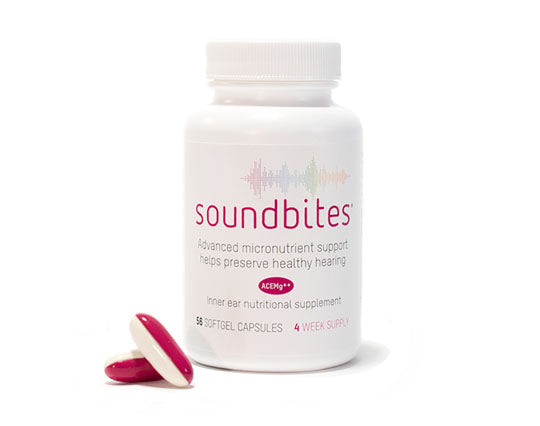 Subscription - Adult (1 Bottle Every 4 Weeks)
Breakthrough antioxidant vasodilator supplement
Micronutrient support preserves healthy hearing
Developed at the University of Michigan Medical School
9 US patents for preventing hearing loss and tinnitus
Shipped worldwide with love & care
How Soundbites helps
Insulates & protects
Insulates your ears from the inside, protecting against damage from oxidative stress, the root cause of the vast majority of hearing loss.

Eliminates oxidative stress
Prolongs the life of hearing cells, keeping them happy and healthy by replenishing the exact micronutrients they need to eliminate oxidative stress.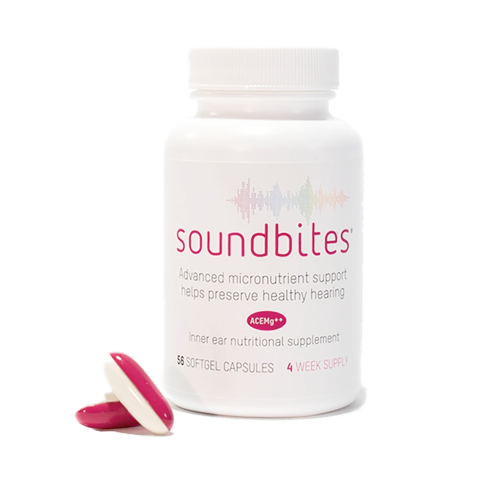 Promotes blood flow
Promotes inner ear blood flow by supplementing antioxidant systems to eliminate excess inner ear free radicals.

Reduces hearing loss
Demonstrated in replicated preclinical medical research to increase hearing cell tolerance to noise by up to 30dB, reducing noise-induced hearing loss by up to 75%.


Soundbites Specifications
Recommended daily doses
Two capsules daily ages 18 or older.
Take whenever convenient.
One capsule daily ages 9 to 17.
Take once daily whenever convenient.
Children younger than nine years require a lower dose. Keep out of their reach.
Smokers please consult a physician before taking antioxidant supplements.

Ingredients
Active ingredients: Vitamin A (in the form of beta-carotene, provitamin A); Vitamin C (as calcium ascorbate); Vitamin E (in the form of dl-alpha tocopheryl acetate); Magnesium (in the form of magnesium oxide). Other ingredients: Refined soybean oil (carrier), soy lecithin (emulsifier), glycerol, mono- and di-glycerides (stabilizers)
FDA cGMP manufacturing
Soundbites softgel capsules are produced in an FDA-certified pharmaceutical facility using RP Scherer softgel technology to enhance bioavailability. Manufacturing processes strictly comply with current FDA Good Manufacturing Practices (cGMP). Capsules are packaged and shipped to us under climate control, stored in our climate controlled warehouse.
Guaranteed bioavailability
Refrigeration is not necessary. When stored at room temperature, stability tests guarantee that the statement of active ingredients is accurate until the expiration date imprinted on the bottle label. 
Preserve hearing
Soundbites helps maintain normal auditory function, helping you keep the hearing you have by maintaining the health of hearing system cells and prolonging their lives. Soundbites can improve hearing sensitivity and reduce tinnitus symptoms, but cannot regenerate hearing or cure tinnitus.
Nutraceutical
Soundbites is a nutraceutical for hearing preservation, regulated as a dietary supplement by the U.S. Food and Drug Administration (FDA) under Dietary Supplement Health and Education Act (DSHEA) law.
Developed at the University of Michigan Medical School to help preserve healthy hearing.
Patented for eliminating the root cause of hearing loss caused by excess inner ear free radicals, and for preventing and treating temporary and permanent tinnitus
Quality guaranteed. Your money back if you are not 100% satisfied
Frequently Asked Questions
Soundbites differs from consumer vitamin supplements in a couple of important ways. First, the Soundbites you purchase from us are identical to the product that was originally developed and registered as a clinical medicine in grant-supported clinical trials. 
Second, Soundbites  softgel capsules comply with the strict standards of pharmaceutical manufacture, a higher standard not required for consumer vitamins. Bioavailability of the active ingredients, and stability of the product through the expiration date are certified by analysis and guaranteed. 
Third, Soundbites is the only scientifically validated, patented micronutrient formula demonstrated to deliver the exact micronutrients inner ear nerve cells need to relieve the oxidative stress that damages hearing and causes hearing loss. 
Take Soundbites any time of the day that works for you. We suggest taking Soundbites daily as part of your regular healthcare routine, much like brushing your teeth helps protect against cavities.
If you choose to take Soundbites infrequently, we suggest taking it before you are exposed to loud noise in environments such as entertainment venues, live sports venues, during airline travel, or when working with power tools or sporting equipment.
If you forget to take Soundbites in advance of exposure to intense sound or noise, take Soundbites as soon as possible after exposure, and continue for at least three days to help your hearing cells recover.
Yes. The ingredients in Soundbites are classified by the FDA as Generally Regarded as Safe (GRAS). The safety of micronutrient supplements – vitamins and minerals – has been researched since the first vitamins were discovered about 100 years ago. The ingredients in Soundbites softgel capsules are safe at any age. 
Young children need a lower dose. A low-dose form of Soundbites has been developed for doctors treating children with clinical indications of free radical-induced hearing impairment including GJB2/connexin 26 genetic mutation; aminoglycoside ototoxicity; and congenital cytomegalovirus (cCMV).
Heavy smokers should consult their doctor before taking antioxidants.
Soundbites can improve hearing sensitivity, which is perceived as better hearing, but Soundbites absolutely does not regenerate hearing cells. Hearing cells in humans do not regenerate. Hearing regeneration research is ongoing, but no hearing regeneration drugs have been approved.