Breakthrough antioxidant dietary supplement 
Micronutrient support preserves healthy hearing
Developed at the University of Michigan
9 US patents for preventing and treating tinnitus
Shipped worldwide with love & care
Soundbites Technical & Medical
Feature images or videos
Primary ingredients: Vitamin A as beta-carotene [there is no RDA (recommended daily allowance) or UL (upper intake level) for beta-carotene as the body converts beta-carotene to vitamin A as needed]; Vitamin C (as calcium ascorbate); Vitamin E (as dl-a-tocopheryl acetate); Magnesium (as magnesium oxide). Other ingredients: Refined soybean oil (carrier), soy lecithin (emulsifier), glycerol, mono- and di- glycerides (stabilizers).
Feature images or videos
Add a video popup link to show a play button. Share blog posts, products, or promotions with your customers. Use this text to describe products, share details on availability and style, or as a space to display recent reviews or FAQs.
Feature images or videos
Two capsules daily ages 18 or older. Take whenever convenient.One capsule daily ages 9 to 17.Take once daily whenever convenient. Children younger than nine years require a lower dose. Keep out of their reach.Smokers please consult a physician before taking antioxidant supplements.
How Soundbites Works
Insulation & Protection
Insulates your ears from the inside, protecting against damage from oxidative stress, the root cause of the vast majority of hearing loss.

Eliminate oxidative stress
Prolongs the life of hearing cells, keeping them happy and healthy by replenishing the exact micronutrients they need to eliminate oxidative stress.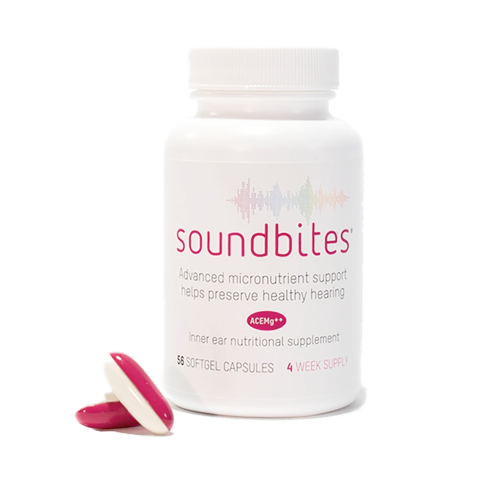 Promotion of blood flow
Supplements inner ear antioxidant systems to eliminate excess inner ear free radicals and promote normal inner ear blood flow. 

Reduces Hearing Loss
Demonstrated in replicated preclinical medical research to increase hearing cell tolerance to noise by up to 30dB, reducing noise-induced hearing loss by up to 75%.